Looking to get started in an incredible career? The physical therapy field is one of the most rewarding and fastest growing professions in the healthcare industry. According to U.S. Bureau of Labor Statistics, the physical therapy field is expected to grow by 41% by 2020. This industry is one of the fastest growing in the United States and offers a variety of rewarding career options.
While our three-week program only is the very first step toward extensive physical therapy education, upon its completion students will be eligible to start work immediately. Physical Therapy Aides, also known as rehab techs, work in physical therapy practices, hospitals, nursing care facilities, physician offices, home health care services and outpatient care centers. Their work includes setting up treatments to be applied by the therapist, assisting in patient transfers, helping with follow-up of routine exercises, managing and implementing programs initiated by a therapist, supervising patient home programs prescribed by a therapist, handling front-office duties and maintaining equipment. For those interested in professional growth, this program is the perfect way gain practical experience and understanding of profession required for admission to appropriate undergraduate programs.
Our program takes you through everything you need to know to get started; from basic anatomy to in-depth therapeutic exercises. The goal of this course is to properly instruct students so that they may enter the physical therapy field ready for work. Our program combines theory with real-world experience to have you equipped and prepared for an entry-level position into one of the most rewarding professions in the healthcare industry.
Hourly mean wages range is from $11.85 to $17.71 by U.S. Bureau of Labor Statistics
Licence: Physical therapist aides are not required to be licensed.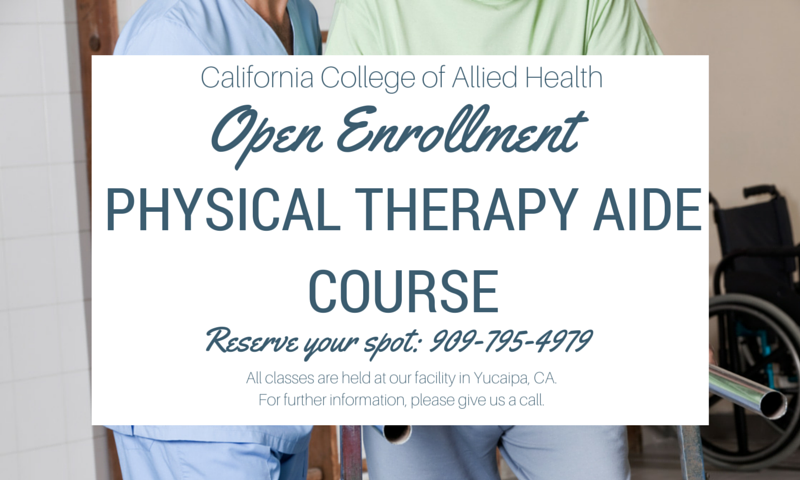 Course Prerequisites
Applicant to Healthcare programs must possess a high school diploma or its equivalent (GED, state proficiency certificate, a homestudy certificate or transcript from a homestudy program that is equivalent to high school level and is recognized by the student's home state, college transcript, or college diploma) or interview with an Admissions Advisor to determine if the applicant meets established "Ability to Benefit" criteria.
Applicants 18 years or older without a high school diploma or its equivalent are required to pass a Wonderlic Basic Skills Test (WBST) [Verbal Forms VS-1; VS-2; Quantitative forms QS-1; QS-2]. Passing scores are: Verbal (200), Quantitative (210).
Course Objectives
Upon successful completion of this course the student will:
Be knowledgeable and able to follow all regulations required for healthcare workers
Understand basic structure and function of the human body
Understand applied anatomy and physiology of the musculoskeletal system, joints and movement
Understand body mechanics, verbal commands and transporting techniques
Be ready for proper patient care: prepare for transferring, transferring, turning and positioning patient, assisting with gait training and more
Under supervision of Physical Therapist, able to operate basic therapeutic equipment and assist with treatment such as heat and cold therapies, and ultrasound
Under supervision of Physical Therapist, able to provide basic therapeutic exercises and range-of-motion exercises
In our Physical Therapy Aide course, we are proud to offer:
Course taught by clinically practicing experienced Physical Therapist
Attention to students' individual needs
Small class setting: 4 - 10 students per class
Email assistance and advice on any element of the course provided by the course instructor
Student textbooks and all learning and practice materials included
Hands-on lab training with equipment used in physical therapy
Student online performance tracking
Final exam at the end of the course
1 week externship program after the course
School Certificate of Achivement once the theory, lab and externship program will be complete
Course Breakdown
| | | | | | |
| --- | --- | --- | --- | --- | --- |
| TUITION | TOTAL COURSE CREDIT | LECTURES | LAB | IN-HOME PREP | FINAL EXAM |
| $750 | 50 CLOCK HOURS/1.2 SEMESTER CREDITS | 20 HRS | 20 HRS | 10 HRS | 2 HRS |
TUTITION
$750
TOTAL COURSE CREDIT
50 CLOCK HRS (1.2 SEMESTER CREDITS)
LECTURES
20HRS
LAB
20HRS
IN-HOME PREP
10HRS
FINAL EXAM
2HRS